There are more benefits to solar that just saving on energy bills and producing clean, renewable energy for your home. In fact, when installed correctly, solar panels can make your roof last LONGER! They act as first defense for your roof and can assist in roof longevity in multiple ways!
Less Sun and Heat
Most solar panels are placed on the roof of the home, and as a result the home's roof will see less solar radiation and slow down the degradation of the roof's shingles. The Sun's rays are harmful to your roof and can damage your roof by drying the shingles out and sun bleaching them. You may not realize it, but your roof without solar panels bears the brunt of the solar radiation. Solar radiation can cause your roof to fade as well as get very hot in the summer, decreasing curb appeal and making blemishes more noticeable. Season after season this can take a toll on your roof. A house with solar panels negates some of the impact caused by the sun, especially if most of the roof is mostly covered by solar panels.
The sun is going to bare down on your roof anyway, so why not have a solar system in place, taking the brunt of the sun's rays and converting it into energy savings for your home! Solar panels absorb the Sun's energy and keep the roof underneath free from solar radiation and heat, all while generating electricity. With a properly sized system, the energy the panels produce will be enough to completely negate the home's electricity needs! Furthermore, since the panels aren't placed directly on the roof, there is space for air to flow between the roof and the panels. This provides further cooling for the shingles on your roof to keep them flexible and prevent over-drying.
And the benefits don't stop there! Did you know solar panels can help keep the inside of your home cooler in the summer? According to a study from UC San Diego they help reduce the temperature inside the home by 35% or more! Solar panels provide a substantial energy efficiency boost for your home, on top of generating clean, renewable electricity.
Less Weather Exposure
Your roof takes on the elements every day, keeping your family safe and dry. Adding solar panels can assist your roof in this task by being the first layer of defense. They well help protect your roof from wind, snow, rain and even hail! To put it simply: less elements reaching your roof means a longer lasting roof.
You may be wondering, "well if inclement weather can damage my roof, then it will damage my solar panels." That may be true for less advanced panel systems, but any reputable solar installer will only use panels proven to last, even in the worst weather. American Sentry Solar only installs panels that have been extensively weather tested, including high wind and severe hailstorm simulations! These panels can "weather" (pun intended) any storm, and still produce the electricity needed to power your home. Talk about durable!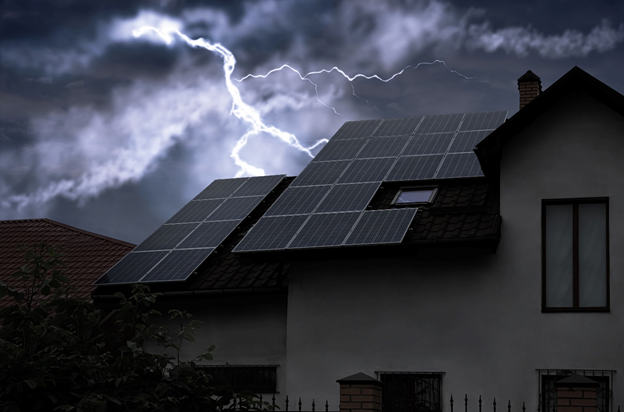 No Roof Damage Upon Installation
At American Sentry Solar, we are experts in roofing and solar installs. In fact, we have 28 years in the roofing industry, and have professionally installed thousands of roofs and solar systems! This means we are the roofing and solar experts and know how to marry the two projects perfectly! We make solar simple, and help homeowners go solar without compromising the roof's integrity and effectiveness.
The standard rule of thumb is for a roof be no older than 10 years for homeowners considering solar. This is due to (properly installed) roofs and solar having similar life spans (25+ years), and replacing an older roof at the time of solar installation can save you the headache of having to remove the panels later in order to access the roof for replacement or repairs. Ideally the homeowner will choose to replace the roof and get solar panels at the same time, further prolonging the life of the new roof and avoiding the costs of panel removal and reinstall down the road!
A Resale Value Increasing Force Field
Solar panels used to be ugly, outdated blue panels and did not compliment the home's curb appeal. However, with updates in solar energy technology, panels are better looking and more efficient than ever! Monocrystalline (black) panels have a longer lifespan, higher productivity, and require less panels to produce the same amount of electricity! American Sentry Solar only uses monocrystalline panels that are slim, black and are hard to even notice on your roof. Installing one of these attractive solar systems can even increase your home's resale value. A study done by the National Renewable Energy Laboratory found that homes with solar panels sold 20% faster than other homes on the market, for 17% more!
Going solar has so many benefits and being the first line of defense for your roof is just one! Interested in seeing if your home is a good fit for solar? Get a FREE Solar Analysis from American Sentry Solar for your home today.